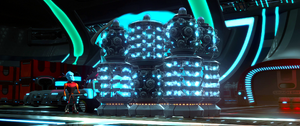 Blutoniums are electrical orbs in containers that active things like the Laser ray. The BASA Guards get the powerful blutoniums prepared to send to Shanker for his laser to destroy Planet Baab. Scorch breaks the container after ripping it out of the laser, being chased by the guards with bullying them and throwing it up in the air. Shanker gets mad at him and the Greys capture him and send him into the icy prisons where the aliens were frozen into. Gary manages to repair the broken Blutonium pieces that he destroyed and places it back into the laser. With the pinball and other objects injected into the blutonium, it over heats thereby the blutonium orb and the laser explodes once they accidently shut the laser down while malfunctionated.
Ad blocker interference detected!
Wikia is a free-to-use site that makes money from advertising. We have a modified experience for viewers using ad blockers

Wikia is not accessible if you've made further modifications. Remove the custom ad blocker rule(s) and the page will load as expected.