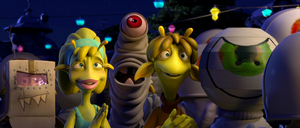 The Citizens are green alien humanoids with antennas on their heads in Planet 51. They may look yellow-ish their skins although they are green colored. They are similar to Whatnots, Piantas and Anything Muppets. Several male people were mostly shaped like Fraggles. The female citizens have skirts along with their dress. Later in Escape from Planet Earth, The citizens have later been modified and recycled as the Baabians which leaves the hair, nose and antennas removed from the aliens and with long pointed ears, pants, fins, bumps, new glasses and blue skin.
For more photos of whatnots? See Citizens (Planet 51)/Gallery
Ad blocker interference detected!
Wikia is a free-to-use site that makes money from advertising. We have a modified experience for viewers using ad blockers

Wikia is not accessible if you've made further modifications. Remove the custom ad blocker rule(s) and the page will load as expected.