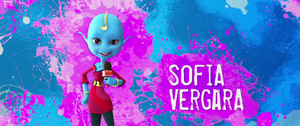 Gabby Babblebrook is a reporter baabian in Escape from Planet Earth. She reports news on the BNN news channel. She revealed the dark planet cola during her news on Scorch supernova. She was sad while he was captured and taken to Area 51. She has crush on Scorch which she later marries and she became Scorch's new wife.
The character used for Gabby was a refurbished version of a female teen citizen on Planet 51.
For more images of Gabby Babblebrook, see Gabby Babblebrook/Gallery.
Ad blocker interference detected!
Wikia is a free-to-use site that makes money from advertising. We have a modified experience for viewers using ad blockers

Wikia is not accessible if you've made further modifications. Remove the custom ad blocker rule(s) and the page will load as expected.