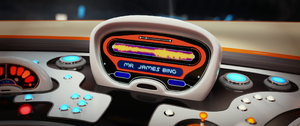 Mr. James Bing is a sarcastic talking computer with sound waves. He is programmed at the BASA Academy in Escape from Planet Earth.
While Scorch was tickling the babies and they started laughing through the spaceship in the tunnel at Planet Gnarlach, he summoned Gary to have Scorch to be a bit quieter so he doesn't wake up the Gnarlachs.
Gary mentioned that the computer is an expensive consle, but he didn't believe it.
His voice was recorded by Ricky Gervais.
Ad blocker interference detected!
Wikia is a free-to-use site that makes money from advertising. We have a modified experience for viewers using ad blockers

Wikia is not accessible if you've made further modifications. Remove the custom ad blocker rule(s) and the page will load as expected.