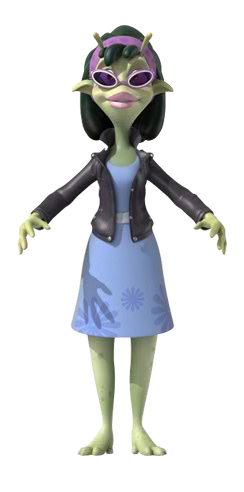 Peggy Sue (a.k.a Peggie Sue) is a green humanoid alien in Planet 51. She appears at the beginning of the race missions when a player is about to play the racing mini-games where she signals them to go and then crouches down after Go! is signaled. She is also an unlockable multiplayer character, she can be unlocked if the "Looking for Rover" mission is complete. She can only be playable in multiplayer mode. In the movie of Planet 51, she is one of the background characters. She get's terrified by a robot "Rover" driving past the aliens in the Bowling alley while the soilders are on a rush to chase him. The look of her is similar to the movie version of Planet 51. She also appears in the task challenge extra "I Can Do Anything!" on levels 11-15 where she needs some party supplies for her party at the park. She will invite them after she gets all the supplies she needs. Additionally, she appears in the game's credits in the movie theater where Humaniacs was playing but with scenes from the game were used.
Peggy later appeared as one of the nameless Baabians on Escape from Planet Earth, yet without the sunglasses, hair and the hair tie and with different clothes.
Filmography
Edit
See Peggy Sue/Gallery.