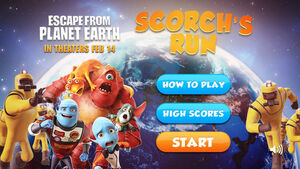 Scorch's Run is an endless running mobile game on Escape from Planet Earth. Scorch must run as far as possible along with collecting babies, Blueboniums and Slurpees for extra points without waking up the Gnarlachs or falling off the edges. The player can hold about 3 lives. If a player loses all lifes, it will have to restart all over on level 1.[1]
Ad blocker interference detected!
Wikia is a free-to-use site that makes money from advertising. We have a modified experience for viewers using ad blockers

Wikia is not accessible if you've made further modifications. Remove the custom ad blocker rule(s) and the page will load as expected.